ONLINE HR TOOLS FOR THE OTHER CONVERSATION
In less time, with direct effect, more depth and without hassle.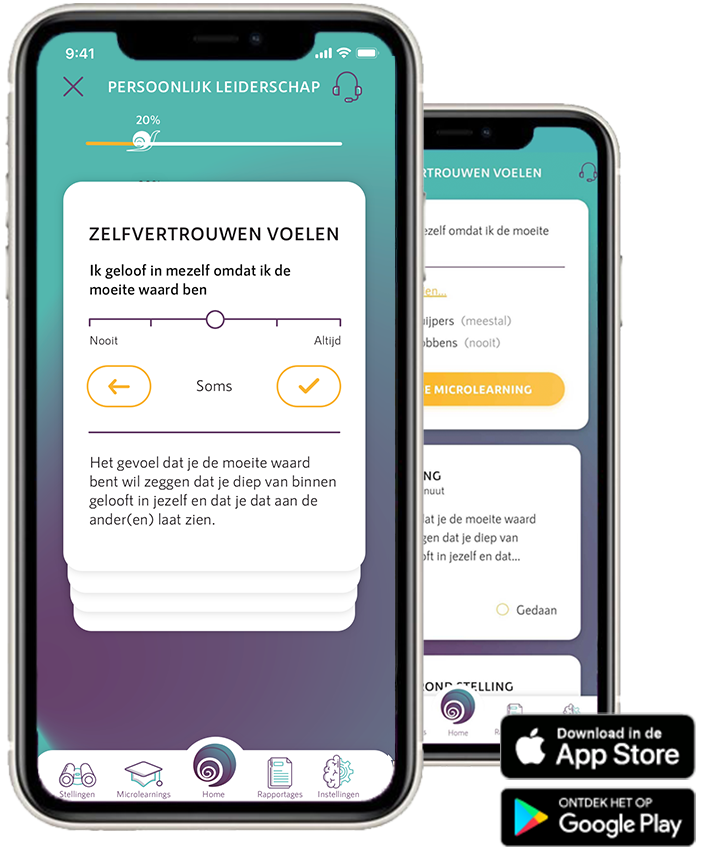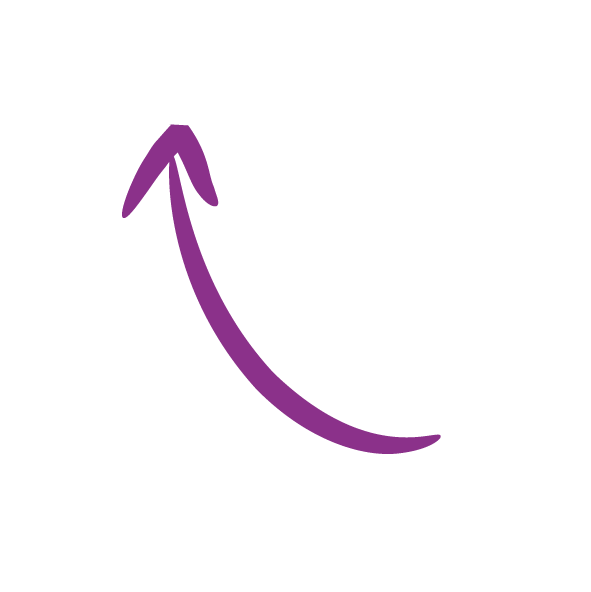 DEVELOP YOURSELF BY LEARNING TOGETHER
Organizations are in full swing towards more self-management, self-organization, agility, employability, sustainability, vitality. This puts a lot of pressure on people in organizations to move along with this. This requires employees and managers to take control of the challenges involved, to tackle them together: learning along the way. These movements and challenges therefore strongly appeal to the self-developing capacity at individual and team level.
Developing capacity stands for having more perspective for action and freedom of choice, carrying capacity and resilience and getting moving from within yourself, from within. Slow reflector supports as a HR tool and method to make more use of your development capacity from your own direction together with others. Below you will find summarizing reactions from organizations and people about what the use of the slow reflector has yielded for them.
WHAT DOES USING THE SLOW REFLECTOR PROVIDE
Time-saving, more effective alternative to (performance) interviews
Direct effect on actions and behavior, individual and teams
Less turnover by talking to each other better and earlier
Better performance by learning together and with each other
More balance through understanding each other and space for yourself
Savings on education and training through targeted, in-depth microlearnings
Less absenteeism by being seen and heard more
Razor-sharp, measurable insights that touch and cause movement

Easy, fill in the app, reports via email.

Effective, quickly to the core and to the point.

Advantageously, small investment, big impact.

Quality, positive experiences of employees and entrepreneurs.

Lasting, lasts a long time, stays in the spotlight.

Tailor-made, to be customized according to needs.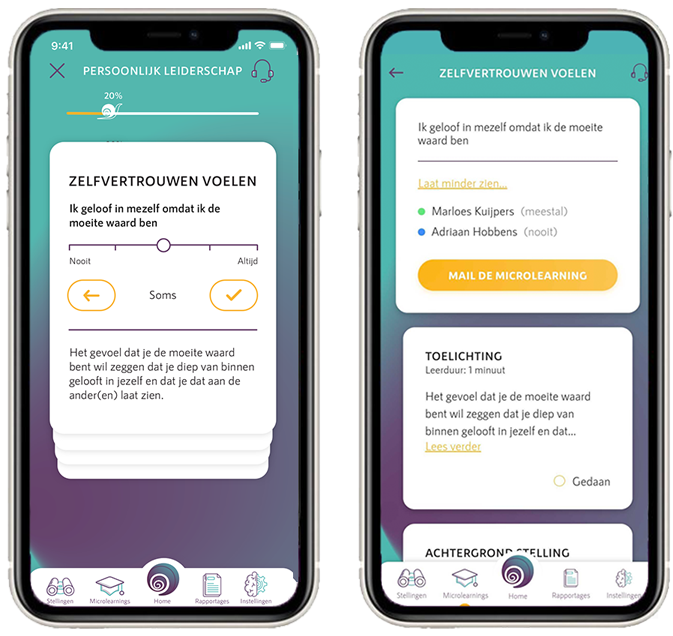 Simplicity, user-friendly and meeting the highest quality standards are paramount for the slow reflector app. After receiving your login code, invite feedback providers and get started answering the statements. The results provide a razor-sharp, measurable insight into your development capacity and how to make more use of this through nurturing, development, talking points and micro learnings.
After you have completed answering the statements, you download your reflection and dialogue report as a basis for conducting conversations (based on the insights obtained and to be obtained). You then choose 1 to 3 micro learnings to get started with your own development. In addition, you will receive three microlearnings from the app based on your results.
A microlearning consists of an introduction, an explanation and explanation of the statement with the points for development, a deepening to develop more from within and a learning route with learning activities.
REFLECTOR APPROACH
As an individual, team or organization you can get started with the Slow Reflector in different ways:
THROUGH EXTERNAL GUIDANCE
Our partners guide you through the use of the Slow Reflector. They ensure that the Reflector is used efficiently and effectively and that it is solidified within the organization.
THROUGH INTERNAL GUIDANCE
Employees of the organization will be trained to work with the Slow Reflector in the organization. In doing so, they ensure that the Reflector is implemented, and that knowledge transfer and assurance happens.
IMPLEMENTING
YOURSELF
After a short introduction via an E-learning, employees start working with the Reflector independently. When necessary, support is provided through our support team.


HOW IS SLOW REFLECTOR DIFFERENT?
The slow reflector is not a test, scan or assessment. It is a tool to tackle the challenges you face and the movement the organization is making with more development capacity. Below is an overview of what the app is and isn't.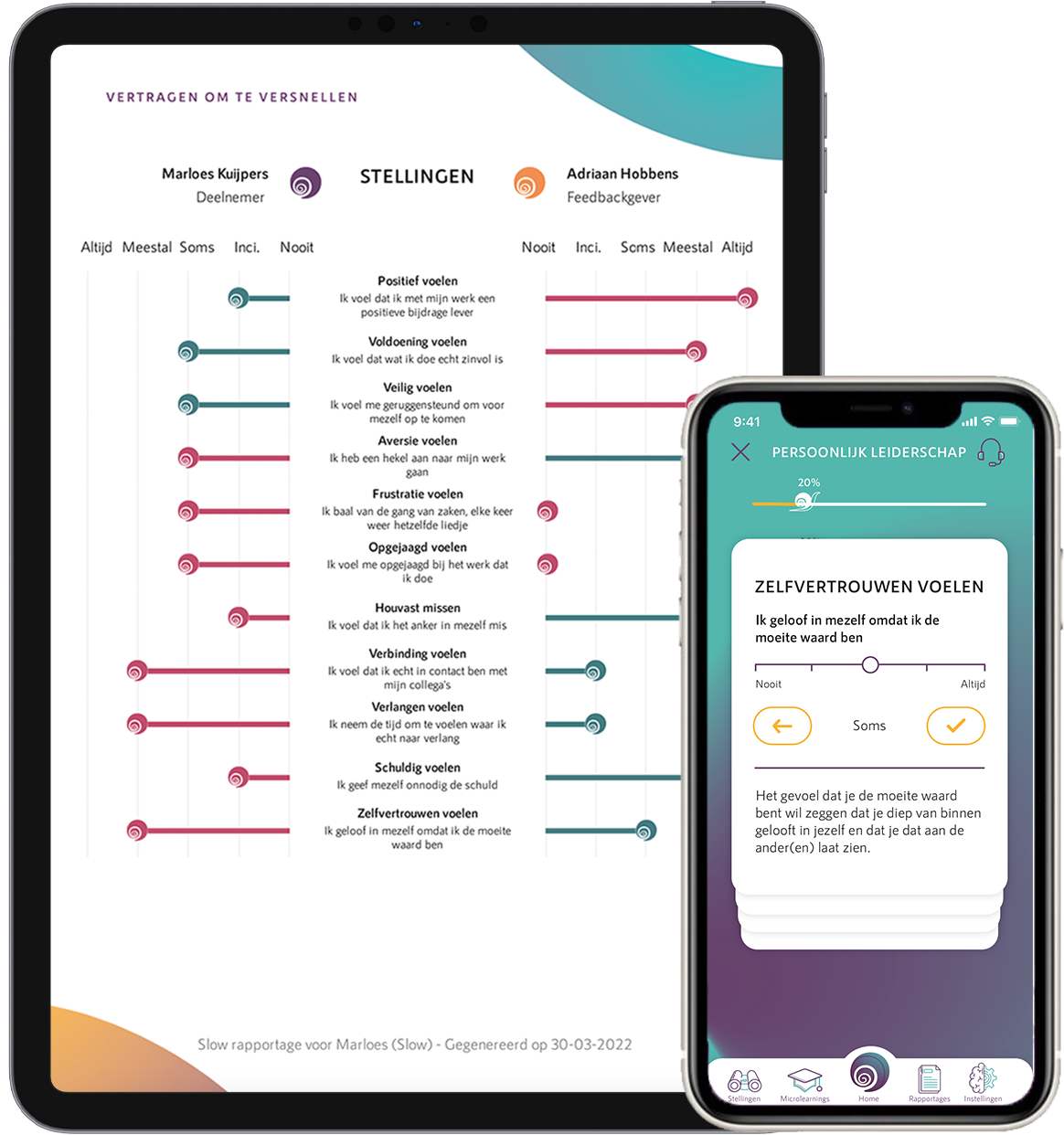 LEARNING TOGETHER ON THE WAY
By using the Reflector as a tool to regularly pay attention to development and nurturing points at a personal and/or team level, you guarantee personal leadership in daily practice. By also measuring the development capacity and continuing to discuss this with the help of the method of the Slow approach and relationship cycle, the Reflector ensures connection with each other and appreciation towards each other.
REQUEST A TASTING
Practice shows that the operation and meaning of the Slow Reflector is best experienced by trying it out yourself. We would like to invite you to participate in our slow tasting. Register for this via the button below. You can also request a shortened demo for a first insight.
REACTIONS TO THE SLOW REFLECTOR APP
"It offers me opportunities to gain more insight. And that there are several ways of communicating that bring people closer together. I think it's a great way to see change in just one conversation. And how pleasant this is experienced".
"
"The Slow reflector is an effective aid for reflection. After a certain time, it is nice to pick up the Reflector again and get back together with the other person, to reflect on what has changed and what process you have gone through in this. Now people listen to each other better and we have a common goal in mind, which is reflected in the contact with clients. As a result, we are one team and we radiate this."
"
"What it has brought me is even more insight, but especially depth in the actions of both myself and my colleagues. By entering into a conversation with my colleagues on the basis of the Reflector frees up even more space to look for the real depth and you get to know your colleagues but also yourself even better."
"