SLOW REFLECTOR
The tool for conducting effective and in-depth conversations that will allow you to make more use of your development capacity.
The results of the slow reflector contribute to the earlier and more accurate identification of what is going on with employees and teams. In light of the current tightness on the labor market and the high workload in organizations, the reflector works as an 'early warning' tool.
This leads to less absenteeism, less turnover among employees, more employability, more effective and efficient work and, above all, more happiness at work. It encourages collaboration and a constructive learning culture.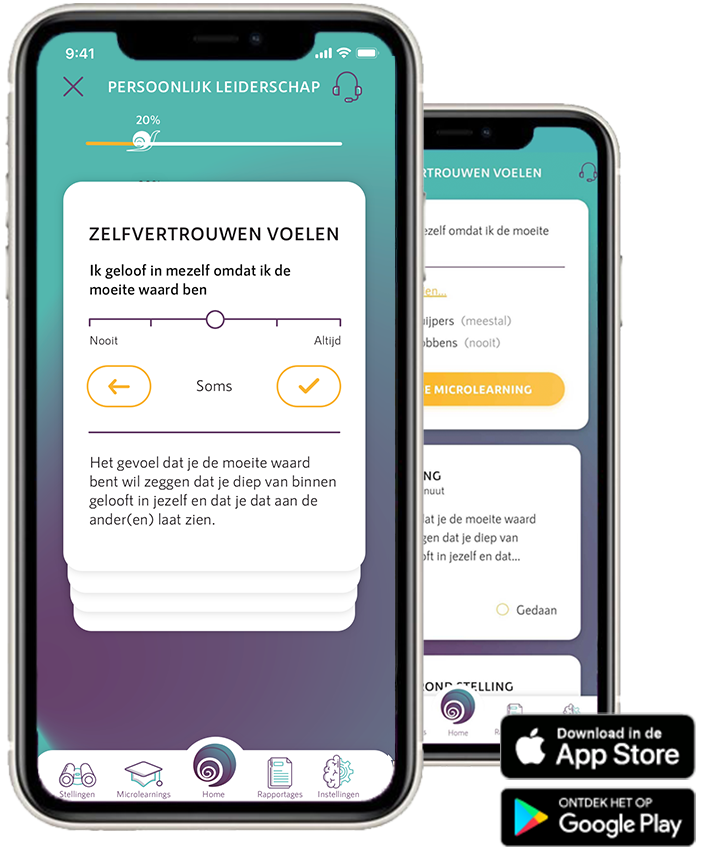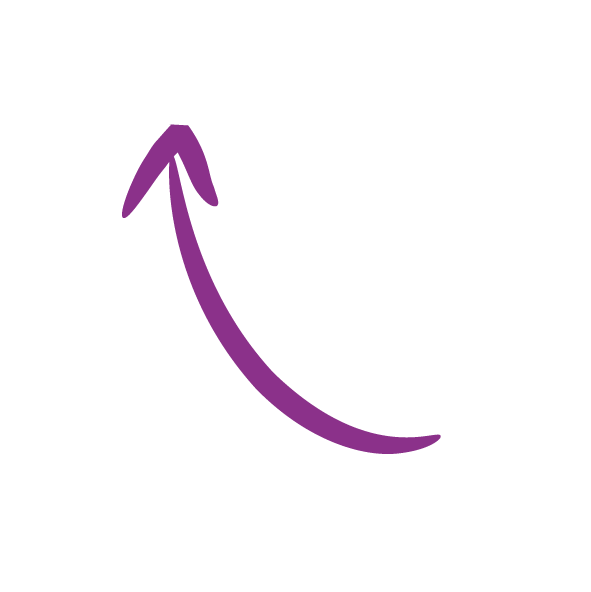 HOW DOES THE REFLECTOR WORK?
The slow reflector is an HR tool that supports you to have conversations in a different, more in-depth way. Fill in the reflector with the statements via the app and invite 1 to 4 feedback providers. Based on your results, you will gain insight into the extent to which you use your development capacity. In addition to your own insights, you get insights from your feedback providers. After completing the form, you can download the reflection, dialogue and development reports (pdf) via the app, follow microlearnings and do a coach check.
You can download 6 microlearnings based on the development points from the reflection report. These are short e-learnings with which you take the first steps to make more use of your development capacity. You can start a conversation with your feedback providers based on the talking points from the dialogue report. You get to know each other better and have a better understanding for each other. It also provides great additional insights
The development capacity of yourself and/or your team is expressed in the development report as a percentage. This gives the opportunity to compare with yourself, with feedback providers, other team members, the organization and offers the possibility to focus more on your development, on your behavior. This has a stimulating effect and contributes to making your growth more sustainable
The reports help you get started with your own development. The development capacity provides a percentage of insight into the extent to which you use your development capacity. If you have a question about the meaning of the percentage and or about the extent to which you can get started yourself, then ask your question and we will contact you. This coach check is free so feel free to use it. Email your question to This email address is being protected from spambots. You need JavaScript enabled to view it..
WHY CHOOSE THE SLOW REFLECTOR?
You gain more awareness and understanding for yourself and for each other
You receive targeted development points to get started right away
You get targeted talking points to start a conversation with each other
You save time through much less hassle and easy reporting
you gain insight into the extent to which you use your development capacity
You can get started right away and see an immediate effect on your behaviour
You get a state of the art slow reflector app to work with
WHAT IS AND IS NOT THE SLOW REFLECTOR
The slow reflector is not a test, scan or assessment. It is a tool to tackle the challenges you face and the movement the organization is making with more development capacity. Below is an overview of what the app is and isn't.

Download the app and log in with unique code.
Fill in statements and invite feedback providers.
Download reports in your email.
Study reports and choose development points (possibly do a This email address is being protected from spambots. You need JavaScript enabled to view it.).
Select microlearnings in the app and start immediately.
Reflect and enjoy your progress.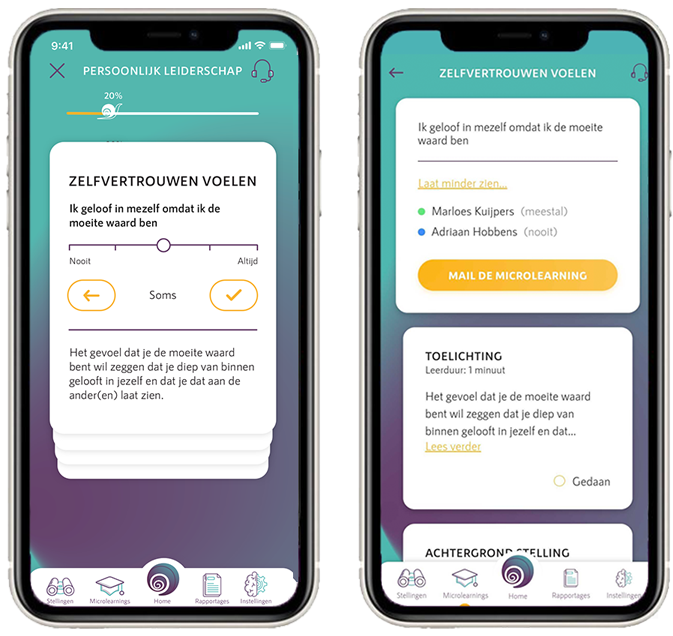 Simplicity, user-friendly and meeting the highest quality standards are paramount for the slow reflector app. After receiving your login code, invite feedback providers and get started answering the statements. The results provide a razor-sharp, measurable insight into your development capacity and how to make more use of this through nurturing, development, talking points and microlearnings.
After you have completed answering the statements, you download your reflection and dialogue report as a basis for conducting conversations (based on the insights obtained and to be obtained). You then choose 1 to 3 microlearnings to get started with your own development. In addition, you will receive three microlearnings from the app based on your results.
A microlearning consists of an introduction, an explanation and explanation of the statement with the points for development, a deepening to develop more from within and a learning route with learning activities.
REFLECTOR APPROACH
As an individual, team or organization you can get started with the Slow Reflector in different ways:
THROUGH EXTERNAL GUIDANCE
Our partners guide you through the use of the Slow Reflector. They ensure that the Reflector is used efficiently and effectively and that it is solidified within the organization.
THROUGH INTERNAL GUIDANCE
Employees of the organization will be trained to work with the Slow Reflector in the organization. In doing so, they ensure that the Reflector is implemented, and that knowledge transfer and assurance happens.
IMPLEMENTING
YOURSELF
After a short introduction via an E-learning, employees start working with the Reflector independently. When necessary, support is provided through our support team.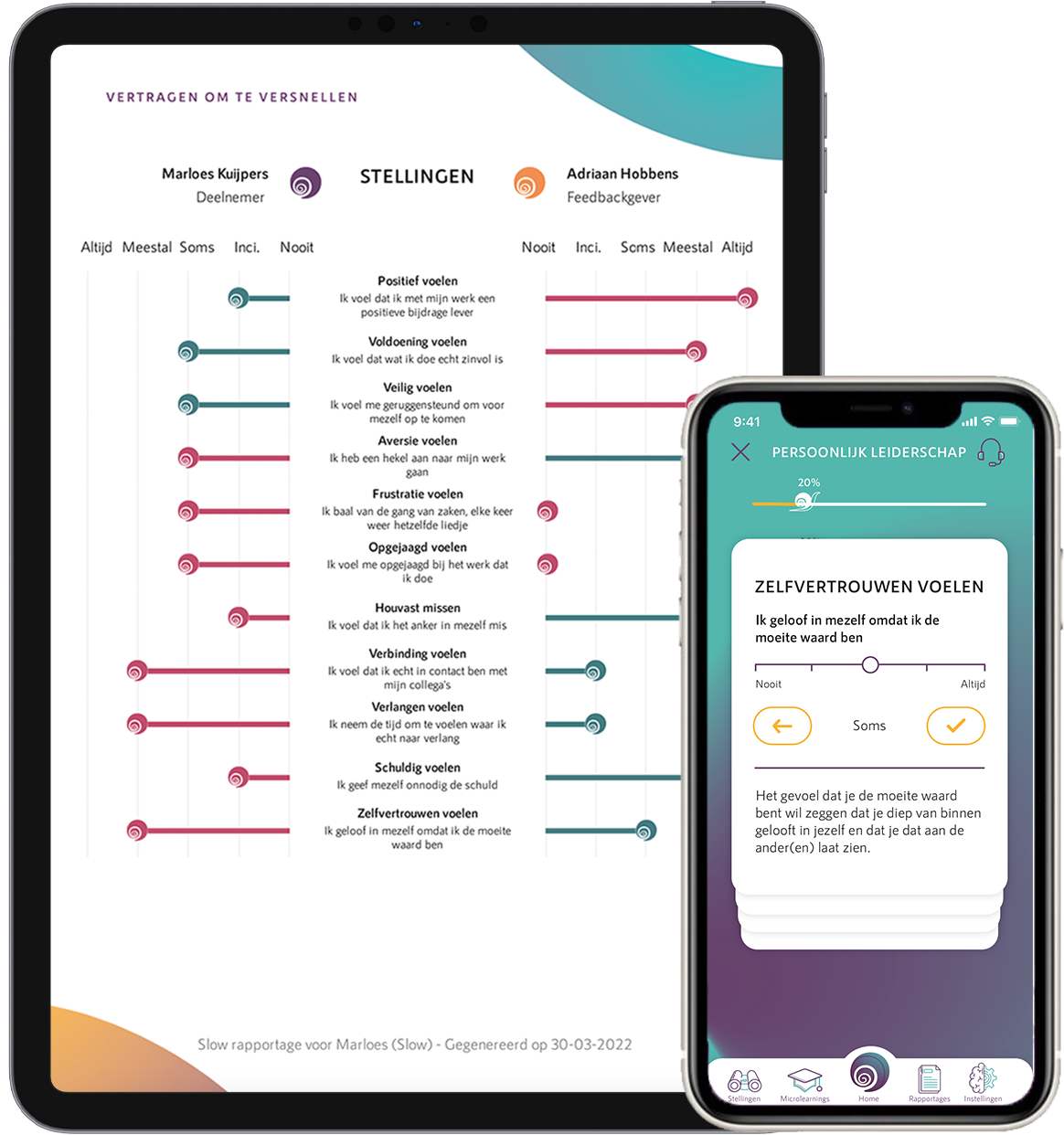 CONTINUOUS DEVELOPMENT
By periodically paying attention to your development and nurturing points on a personal and team level, personal leadership is anchored in your daily practice. But that is not everything! With the Reflector you also measure your development capacity and you enter into a conversation, supported by the method of the Slow approach circle and the leadership trajectory of the relationship circle. This creates a deep connection and appreciation between you and your colleagues. Dive into this touching tool and watch you grow and shine together! For a lasting effect see below for our 1,3 or 5 year subscriptions.
REQUEST A DEMO
In practice it appears that the effect and meaning of the slow reflector is best experienced by trying out the reflector yourself.
We would like to invite you to try out the slow reflector via a shortened demo.
You can fill in the abbreviated demo via the link below. We are very curious what you think of it and will be happy to contact you after completing it.
REACTIONS TO THE SLOW REFLECTOR APP
"It offers me opportunities to gain more insight. And that there are several ways of communicating that bring people closer together. I think it's a great way to see change in just one conversation. And how pleasant this is experienced".
"
"The Slow reflector is an effective aid for reflection. After a certain time, it is nice to pick up the Reflector again and get back together with the other person, to reflect on what has changed and what process you have gone through in this. Now people listen to each other better and we have a common goal in mind, which is reflected in the contact with clients. As a result, we are one team and we radiate this."
"
"What it has brought me is even more insight, but especially depth in the actions of both myself and my colleagues. By entering into a conversation with my colleagues on the basis of the Reflector frees up even more space to look for the real depth and you get to know your colleagues but also yourself even better."
"