SLOW REFLECTOR
Provides online instruments for personal and professional growth. In the form of a user-friendly app, focused on reflection and dialogue, we support people, teams and organisations in strengthening learning culture. 
By using the Reflector, people look at their own share (reflection) and enter into dialogue with each other in a different way, which enhances the learning culture. As a result, people make better agreements with each other and dare to address each other more, and sooner. This leads to more job satisfaction and better performances.
By using the Slow Reflector, a reflection and dialogue report becomes available per team or per individual. 
THE SLOW REFLECTOR IS FOCUSED ON REFLECTION AND DIALOGUE AND IS USED IN A NUMBER OF AREAS, INCLUDING:
Promoting learning culture

Guiding team development

Insight into and awareness of your capacities and talents

The development of personal leadership
Prevention and reduction of absenteeism

Career paths

Increasing employee involvement

Performance and development interviews
FOUNDATION
It is often difficult to say what really concerns you and what you think about something, for instance in a performance and/or development interview. Expressing yourself and addressing someone else is also difficult. People tend to beat around the bush when it comes to reflection and feedback. The Slow Reflector offers tools to enter into dialogue.
By rating statements in a user-friendly app, participants immediately get a picture of where their personal development and cherished points lie. The same applies if the Slow Reflector is used for team development. Valuable insights will emerge that will enable them to enter into dialogue with each other.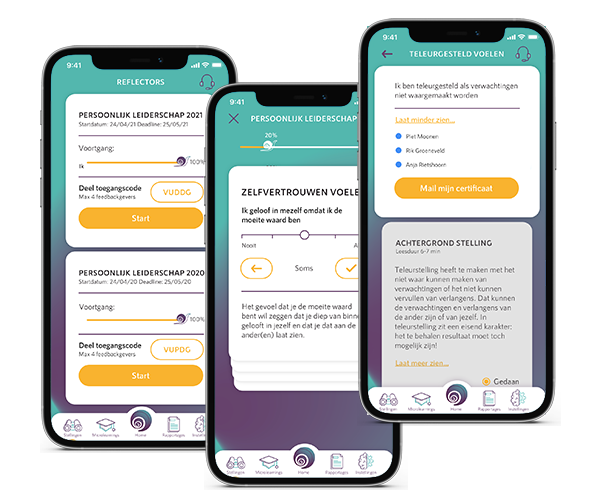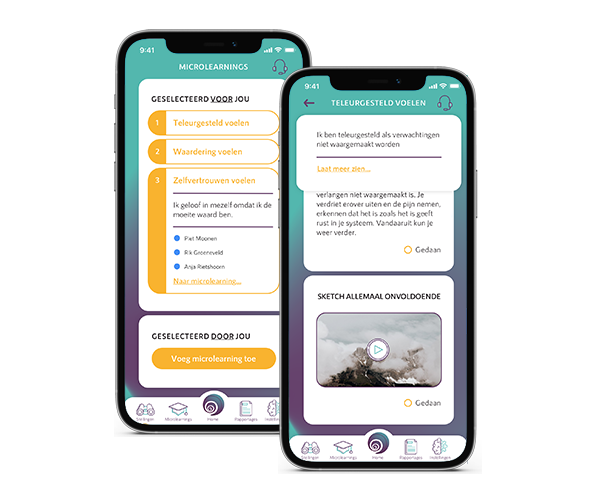 TAILOR-MADE
Based on the specific needs of the client, the Slow Reflector app will be set up. Each participant receives an accessible overview of their own answers to the statements, together with the answers of the feedback providers in reflection and dialogue reports.
Because the participant and the feedback providers rate the statements on a scale from always to never, the outcomes are always subjective. Hence the reflective character of the Slow Reflector: mirroring your own core and mirroring the images of the feedback providers. There is no interpretation or judgment. The outcomes are returned one on one, with the participant having the choice of entering into dialogue with their feedback providers.
THE PROOF OF THE PUDDING IS IN THE EATING!
Practice shows that the effect and meaning of the Slow Reflector become clearest when trying it out yourself. We invite you to request a demo.
REQUEST DEMO